TAA Bookstore
---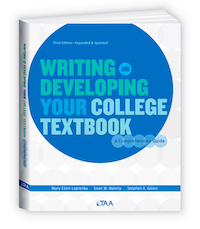 Members: $43.95 $53.95 + Free Shipping and $5 off membership renewal
Non-Members: $47.96 $59.95 + Free Shipping and a free 30-day trial membership or $10 off an annual membership

Paperback - Pages: 320 Edition: 3rd | ISBN: 978-0-9975004-1-7
This updated and expanded third edition by Mary Ellen Lepionka, Sean W. Wakely, and Stephen E. Gillen, will empower you to undertake textbook development by guiding you through the nuts and bolts of the development process, and providing essential background information on the changing higher education publishing industry, as well as how to choose a publisher, write a textbook proposal, negotiate a publishing contract, and establish good author-publisher relations.
---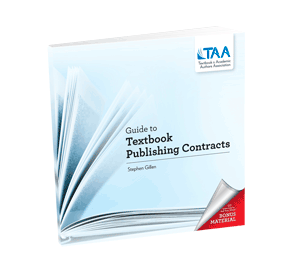 Members: $9.95 $14.95 eBook | $14.95 $19.95 Print
+ Free Shipping and $5 off membership renewal
Non-Members: $19.95 $24.95 eBook | $24.95 $29.95 Print
+ Free Shipping and a free 30-day trial membership or $10 off an annual membership

eBook - Pages: 40 | Edition: 1st
Paperback - Pages: 54 | Edition: 1st | ISBN: 9780997500400

In this step-by-step guide by Stephen Gillen, a Partner at Wood Herron & Evans, you will learn the key provisions of a typical textbook contract and how to determine what's important to you so that you can enter into the contract negotiation process better informed. Get the "typical", "better" and "better still" options you can consider when making decisions about what to negotiate.