TAA Announces 2018 Textbook Award Winners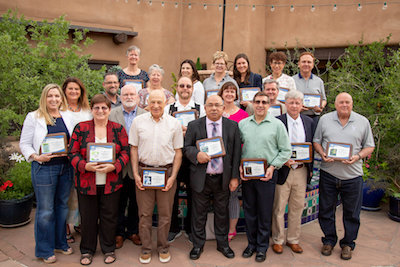 Twenty-six textbooks have been awarded 2018 Textbook Awards by the Textbook & Academic Authors Association (TAA). Four textbooks received William Holmes McGuffey Longevity Awards, 17 textbooks received Textbook Excellence Awards, and five textbooks received Most Promising New Textbook Awards.
 View the 2018 Textbook Award Winners.

The McGuffey Longevity Award recognizes textbooks and learning materials whose excellence has been demonstrated over time. The Textbook Excellence Award recognizes excellence in current textbooks and learning materials. The Most Promising New Textbook Award recognizes excellence in 1st edition textbooks and learning materials.

The awards were presented during an awards luncheon at TAA's 31st Annual Textbook & Academic Authoring Conference in Santa Fe, NM, on Friday, June 15, 2018.
For more than 20 years, TAA has supported textbook and academic authors through these highly-recognized awards, given annually to emerging and veteran published authors in eight subject categories.

Textbooks and learning materials can be nominated by authors or publishers. The awards are open to members and non-members. Works are judged by textbook authors and subject matter experts for their merits in four areas:
Pedagogy
Content/Scholarship
Writing
Appearance & Design


View the 2018 Textbook Award Winners | Media Kit | Photos from the 2018 TAA Textbook Awards Ceremony
Nominations for the 2019 Textbook Awards will be open September 1 to November 1, 2018.
Textbook Award Winners in the News:
Prof. Neck's Entrepreneurship Book Receives Most Promising New Textbook Award | Babson Blogs

New England Tech IT professor nets awards for 2 of his textbooks | Providence Business News
SAGE Publishing Authors Win Textbook And Academic Authors Association Awards | Science Magazine
---
For more information about these awards, including how to nominate your works, click on the specific awards below.


McGuffey Longevity Award "McGuffey"
The William Holmes McGuffey Longevity Award ("McGuffey") recognizes textbooks and learning materials whose excellence has been demonstrated over time. Learn more


TAA's Textbook Excellence Award ("Texty") recognizes excellence in current textbooks and learning materials. Learn more

The Most Promising New Textbook Award recognizes excellence in 1st edition textbooks and learning materials. Learn more