2018 Textbook Awards Nominations Open Sept. 1-Nov. 1
Nominations for the 2018 Textbook Excellence Awards ("Texty"), McGuffey Longevity Awards ("McGuffey") and Most Promising New Textbook Awards will be open September 1 to November 1, 2017.

For more than 20 years, TAA has supported textbook and academic authors through these highly-recognized awards, given annually to emerging and veteran published authors in eight subject categories.

Textbooks and learning materials can be nominated by authors or publishers. The awards are open to members and non-members. Works are judged by textbook authors and subject matter experts for their merits in four areas:
Pedagogy
Content/Scholarship
Writing
Appearance & Design
Each entry is judged on its own merit in these four areas regardless of other nominations in the same field or category. Self-published books and e-books are welcome.
2017 Textbook Award winners | Media Kit | Photos from the 2017 TAA Textbook Awards Ceremony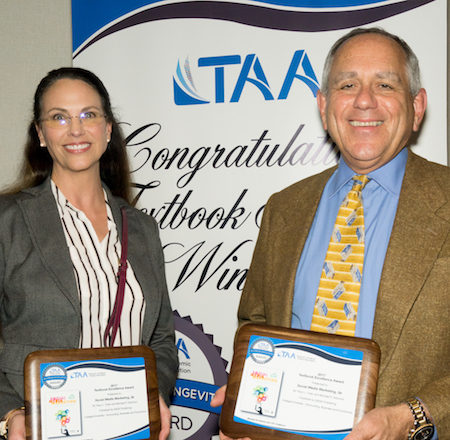 "After 24 years of textbook writing, it is deeply gratifying to receive this affirmation of the value of my work. I am very grateful to my team at McGraw-Hill Education, from editorial and design through marketing, whose commitment to quality has been vital to the success of my books." -- Kenneth Saladin, author of Anatomy & Physiology: The Unity of Form and Function, 2017 McGuffey Longevity Award Winner
"I'm thrilled to receive this honor along with my co-author Tracy Tuten and our publisher SAGE. While we constantly focus on creating a valuable resource for our faculty adopters and student readers, validation by our peers is a rare opportunity and very gratifying." -- Michael Solomon, co-author of Social Media Marketing, 2017 Textbook Excellence Award Winner

"I am honored to be a recipient of the 2017 Most Promising New Textbook from TAA. What a pleasant surprise! To be recognized by well respected peers in the academic textbook community for the work I do in the risk management profession is a lasting achievement that I share with my team at John Wiley & Sons and everyone who has supported my work." -- Karen Hardy, author of Enterprise Risk Management: A Guide for Government Professionals, 2017 Most Promising New Textbook Award Winner

---
TAA is seeking qualified textbook award judges
Are you an expert in your discipline and interested in serving as a judge for the 2018 TAA Textbook Awards program? Complete the Judge's Application to be considered. If you have been a Textbook Award judge in the past two years, you do not need to reapply. Works are judged for their merits in four areas: Pedagogy, Content/Scholarship, Writing, and Appearance & Design. Judges are paid a $100 stipend for each book they judge (or a two-book series) and $200 for a series of 3+ books.
---
For more information about these awards, including how to nominate your works, click on the specific awards below.


McGuffey Longevity Award "McGuffey"
The William Holmes McGuffey Longevity Award ("McGuffey") recognizes textbooks and learning materials whose excellence has been demonstrated over time. Learn more


TAA's Textbook Excellence Award ("Texty") recognizes excellence in current textbooks and learning materials. Learn more

The Most Promising New Textbook Award recognizes excellence in 1st edition textbooks and learning materials. Learn more