Member Resource Center
Welcome to the TAA Authoring Community! You have taken an important first step to boosting your writing and publishing success! We've created this Member Resource Center to help you take full advantage of the variety of resources TAA has to offer.
Get Started
Login to access members-only content. The login section is in the top right corner of the website. Your username is the email address you entered when you joined. If you don't remember your password, you can use the "Forgot Password" link in the login area or contact Membership Coordinator Bekky Murphy at [email protected] and she would be happy to assist you. You can also click on the red "Need Help?" button on the right side of the screen to chat live with a TAA staff member.
Upload your profile photo to help other members get to know you. Your photo appears in the Member Directory.
Read the New Member FAQ to find answers to frequently asked questions about TAA membership.
Get Connected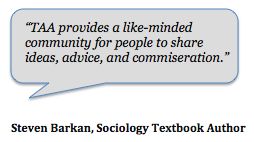 Subscribe to the Textbook Authoring or Academic Authoring E-List email discussion group
Search the Member Directory for members with similar interests or within your geographic region.
Join the conversations on TAA's social media sites: Twitter, Facebook, LinkedIn and Pinterest.
Member Spotlight Program. We would love to highlight you and your accomplishments! Learn more
Get Informed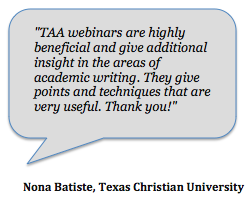 Register for an upcoming webinar. These live, interactive sessions connect you to experts discussing a variety of topics designed especially for textbook and academic authors.
Listen to/watch presentations on demand. Browse recorded webinars by topic, including textbook writing, academic writing, contracts & royalties, academic editing, copyright, marketing, ebooks & open access, social media for academics, and more.
Browse a growing list of downloadable templates, worksheets, checklists and samples gathered from experienced textbook and academic authors and industry professionals to assist you with your own writing.
Download free ebooks. Browse this growing library of free ebooks, including Social Media 101: Tips for Academic Writers, Writing and Publishing Academic Journal Articles, Time Management Tips for Textbook and Academic Authors, and Tips for Successful Coauthoring.

Join us at the annual conference. The 2021 TAA Conference on Textbook & Academic Writing will be held virtually. We'll be sending more information about it soon.

Order Guide to Making Time to Write: 100+ Time & Productivity Management Tips for Textbook and Academic Authors
Making time to write–and doing it productively–can be challenging. So, to help you succeed, we've collected 100+ successful tips and strategies–and a lot of inspiration–from authors who have made the time and made it work. In this Guide to Making Time to Write, you will find just what you need to boost your productivity, adjust your routine, and focus on your writing efforts once and for all. Isn't it time for you to make the time to write?
Order Guide to Rights Clearance & Permissions in Scholarly, Educational, and Trade Publishing
Learn what you need to know to avoid and manage copyright infringement claims that arise from the publication of your book, article, or media project. In this book, intellectual property attorney Stephen E. Gillen covers the unique rights clearance and permission issues related to writing scholarly works. 
Order Writing and Developing Your College Textbook: A Comprehensive Guide
This updated and expanded third edition will empower you to undertake textbook development by guiding you through the nuts and bolts of the development process, and providing essential background information on the changing higher education publishing industry, as well as how to choose a publisher, write a textbook proposal, negotiate a publishing contract, and establish good author-publisher relations. 
Order Guide to Textbook Publishing Contracts
In this step-by-step guide by Stephen Gillen, a Partner at Wood Herron & Evans, you will learn the key provisions of a typical textbook contract and how to determine what's important to you so that you can enter into the contract negotiation process better informed. Get the "typical", "better" and "better still" options you can consider when making decisions about what to negotiate. 
Read the TAA Code of Ethics and TAA's Position Statement on the Academic Value of Textbooks
Looking for resources specifically for textbook writers? Click here
Looking for resources specifically for academic writers? Click here
Get Involved
Write a guest post for the TAA Blog. We welcome your tips, strategies and advice on textbook and academic authoring and publishing. Already have a blog of your own? Send us a link to a post you feel would fit our audience and we may feature it on our blog. Please review our Guest Post Guidelines.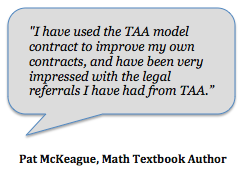 Present a webinar to your fellow TAA Members. Share your expertise on writing, contracts, royalties, taxes, copyright, time management and more. If you're interested in presenting a webinar, contact Kim Pawlak, Director of Publishing & Operations, at (507) 459-1363 or [email protected]

Submit a listing for the Professional Directory. Categories include: academic writing & productivity coaches, accountants & tax advisors, editors, indexers, intellectual property attorneys, literary agents & author consultants, and textbook illustrators. To be considered for inclusion, please complete this Professional Directory Form.
Volunteer to serve on the TAA Council, the association's governing board. Elections are held in March. Meet the current TAA Council.
Share Your Story
We invite you to share how TAA membership has helped you boost your writing & publishing success. Email your testimonial along with your name, title, college/university/company (if applicable), and/or whether you are a textbook author and in what field, and/or your writing field, to Membership Coordinator Bekky Murphy at [email protected]
Read what other members have to say about their TAA membership.
---
For additional support or if you have any questions not answered above, please click the red "Need Help?" button on the right side of the screen to chat live with a TAA staff member, or contact us directly at (507) 459-1363 or [email protected]