#AcWriChat Tweet Chats
Join TAA on Twitter every other Friday at 11 a.m. ET using the hashtag #AcWriChat for a TweetChat on various aspects of academic writing.
Ready to participate? No registration needed –
Not on Twitter? Not sure what a "Tweet Chat" is? Follow us here (you won't be able to actively participate, but you will be able to follow the chat live).
2020 TweetChat Schedule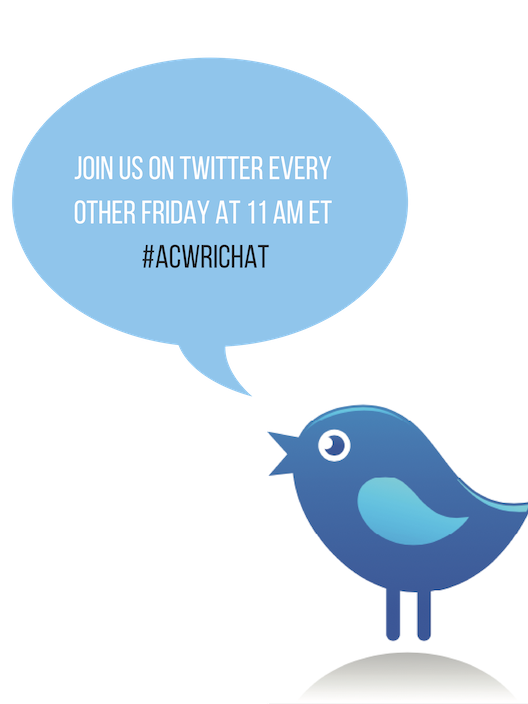 1/10     Gaining support from writing centers
1/24     Filling the gap in the literature
2/7       Outlining and planning a research project
2/21     Exploring funding sources for your research project
3/6       Managing multiple writing projects
3/20     Summarizing literature and other research
4/3       Writing introductions and conclusions
4/17     Editing your work for proper format and quality
              presentation
5/1       Source citation and documentation
5/15     Effective reading habits
5/29     Turning ideas into text
6/12     Revision and editing strategies
6/26     Conducting online research
7/10     Framing a working thesis
7/24     Constructing your ideal reader
8/7       Goal tracking and time management
8/21     Staying motivated and minimizing distractions
9/4       Marketing academic work
9/18     Creating an annotated bibliography
9/25     Peer Review Week - #TrustInPeerReview
10/2     Completing a grant proposal
10/16   Writing in Groups
10/23   Open Access Week - Open with Purpose: Taking Action to Build Structural Equity and Inclusion
AcWriMo - 4 Types of Academic Essays
11/6     AcWriMo Week 1 - Summary
11/13   AcWriMo Week 2 - Synthesis
11/20   AcWriMo Week 3 - Argument
11/27   AcWriMo Week 4 - Analysis
12/11   Constructing an effective CV